Nov 6, 1942- March 4, 2016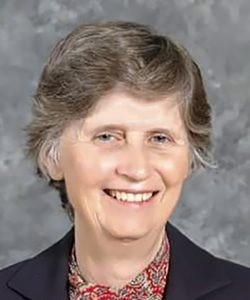 Sandy Anderson of St. Leonard, MD passed away on March 4, 2017.
She is survived by her husband, Charlie; daughters Ashley Kangas of Seattle, WA and Kate Anderson of Charlotte, NC; and grandsons Anderson and Hunter Kangas. Born November 6, 1942, Sandy dedicated her life to learning and education having spent her career at D.C Public Schools. She received her B.A. from Arizona State, her M.A. at Antioch College and her Ph.D. from Virginia Tech. Following retirement, she has been actively involved in Arkadaslar, a Turkish Peace Corps alumni group. Sandy spent two years in Turkey teaching English at an all-girls school. She also was constantly writing; many of her articles were published in the Bay Weekly Newspaper. Most recently, she had been writing a historical fiction novel based on her ancestors who lived in the Appalachian Mountains during the Civil War. Sandy lived a full life and touched many people. She will be dearly missed by her friends and family.
Visitation was on Saturday, March 11 from 10 a.m. until the funeral service at 11 a.m. at Patuxent Presbyterian Church.  Interment was private.  In lieu of flowers, donations can be made to the American Chestnut Land Trust.

Tributes to Sandy Anderson:
Sandy was a friend, a guide, and a terrific leader.  During the September 2016 reunion, a group of us walked from the hotel to downtown Washington.  This included Sandy, Susan Holm, Linda Scheffer, a few other ladies, and myself.  We stopped to take pictures, caught up on each other's lives, kept running into other RPCVs, then wound up at the Turkish festival.  It was great fun.  That was the last time I saw Sandy.  I thank her husband Charlie and the rest of her family for the gift of Sandy in our lives.  She was on loan to us.  I guess we are all on loan to each other.  I'm feeling grateful for all the terrific people that Peace Corps has brought into my life. –Donna Chmara
For me, Sandy was the keeper of the flame. Her leadership was steady and reasoned and clear.

I send my heartfelt sympathy to her family and others in Arkadaslar.

Chris Lair, Turkey III

Dear Arkadaslar,
I was deeply saddened by the news of Sandy's passing.
In my limited interactions with her, whenever I needed her help, she was always ready with excellent advice. I will always remember fondly the time she visited me at my house and shared some of her memories of Turkey.
My sincere condolences to you and to her family.
Yildiz Yagci


This is such sad, sad news.  My deepest condolences to Sandy's two daughters and to her husband, Charlie. The Arkadaslar family has lost a dear friend.  — Pat Lowther
Muharrem,
Thank you for such a thoughtful, insightful, post.  "Dost" was definitely the right word for Sandy.
Hosca kalin,
Sue
When I first met Sandy at Nizam's restaurant for a Bayram Dinner get-together almost twenty years ago, I mentioned how much I liked her email address "TurkeyDost". The combination of two words delivers a profound meaning since "Dost" has a deeper value than "Arkadas" and that's how Sandy must have felt about our "Memleket".
If you attended to a funeral in Turkey, you must have observed that the ceremony takes place in the courtyard of a mosque (usually after the noon or afternoon prayer) where the coffin rests on the Musalla Tasi. The Hoca asks those attending, "How did you know this person?"
and everyone responds, "a good person"…. is the ultimate honor that is bestowed upon the deceased.
Sandy's sudden death is a huge loss for us all. I lost a good friend.
Hoşҫa Kalınız,
Muharrem Sev
I did not know of Sandy's passing until late last night when Margaret Hamill Patterson (T4), tracked me down.  It is a good thing she asked me if I was sitting down before she gave me the news, as I surely would have fallen down from the total shock of hearing it.  I was in total disbelief, as I had just talked to her on the phone Wednesday evening, going over some changes I found that needed to be made to the next issue of "Buralarda."  She had sent me a draft of the issue and I printed it off my computer and brought it with me.  Of course, she was working on her computer, at 2:00 AM, probably working on "Buralarda," when she told Charlie she thought she was having a stroke.   Charlie called 911 and she was quickly transported to the hospital.  Their daughter, Ashley, who lives in Seattle, and their daughter, Kate, who lives in NC, were both able to get to the hospital to see her before she passed away.  I, and Charlie, both believe she stayed alive until Ashley and Kate arrived.

Sandy was one of the finest, most caring, thoughtful, and committed persons I have ever known.  Whatever she was involved in, she gave it her all.  She and I worked closely together on "Arkadaslar" activities, to which Charlie can attest!  Oftentimes, we would be on the phone for hours.  We wanted to be sure we had the most up-to-date, and accurate information as possible, whether for the Membership Directory, the newsletter, "Buralarda," or for global Reunions.

Sandy was very much a family person.  Her husband, Charlie, was her soul mate.  They did many things together, but also had their own interests.  Charlie's was woodworking, and photography, and  Sandy's was "Arkadaslar" activities, writing a book about her ancestors, and taking Spanish classes.  She was very proud of the accomplishments of their daughters, Ashley and Kate.  She adored their two grandchildren, Anderson and Hunter, and looked forward to their visits with them in Seattle.  She was so looking forward to having the boys come visit them in Maryland this summer.

Not a day will go by that I will not miss her.  She lived a good life, but an all too short one.  Rest in peace my friend, you deserve it.  To Charlie, Ashley, Kate, Mike, Anderson, Hunter, and her other relatives, my sincerest sympathies.  My prayers are with all of you.

Linda


I feel that Sandy had 2 families, and we in Arkadaslar were so very lucky to be a part of one of them. As any exemplary mother, she gathered us together, nurtured us, and then kept us together. Even though I barely knew her, she always made me feel like a special part of the family, and as such, she will be missed terribly by us all. –Joan Keene Smith

 
I believe this concern about Sandy and the loss of her service to all of us respects her as the kind of person she was:  warm, friendly and dedicated to her PC service, her PC friends, our joint efforts to promote the ideals that sent us all to the Peace Corps in the first place, and her determination to help us all stay in touch to promote our friendship and joint goals. She will be sorely missed.  Chuck Mast
 
So sad that the inspiration that has kept Arkadaslar as an important part of our lives has passed.
Charlie, Ashley and Kate please know what a wonderful person Sandy was; dedicated to sustaining the love we have for our PC experience and our fondness for the people of Turkey . . . our condolences. –Paul & Magali Kirwan

I feel that Sandy had 2 families, and we in Arkadaslar were so very lucky to be a part of one of them.  As any exemplary mother, she gathered us together, nurtured us, and then kept us together.  Even though I barely knew her, she always made me feel like a special part of the family, and as such, she will be missed terribly by us all.  — Joan Keene Smith

thanks joan. your words ring very true of the family-like bond peace corps service creates. sandy was honored by arkasdaslar publicly on several occasions for her work and contributions, but we are also now noting the contributions of her heart, her generosity of time given for a cause she believed in. kulaklarin cinlasinlar! (may her ears ring with joy from the praise for her).
two weeks ago she wrote me in response to my new years letter that ends with a poem written earlier, but read to our turkey 10 group at the reunion last fall to honor the death of one of our members (steve poppick). in 2011 and in 2016, our group and sandy's group joined together because we had many friendships between us.
my purpose in writing the poem was to put loss of a loved one in a more positive perspective, part of the cycle of life that continues in a different manner. sandy had written in her last letter to me how much she loved the poem. i was touched by her praise, but even it is even more poignant since her passing.  i've shared the poem with her family, and am including it below.                
We seem to glide through life while on a path,
a moving river of relationships,
so when those waves that gave us momentum
rise humbly and then bow into the sea,
we pause to honor what they meant to us.
We have not lost them nor have they lost us:
The essence of the wave is in the sea,
its earthly home to which it must return.
Their crests and foam that once delighted us
give way to joy for deep peace they have found −
still in our memory though gone from sight −
just as we will return and slip from view,
engraved within the hearts of those we love
as bits of time that glimpse eternity.
April 26, 2009, revised January 25, 2017
Nur icinde yatsın. May she repose in the light. –Cathryn Goddard

Aside from our board meetings I did not know Sandy well, but I do know how important she was to Arkadaslar. She will, indeed, be missed.      — Elliott Eisenberg

 
"Sevgili Sandy Hanım,
İnsanlık güzel bir evladını, Türkiye büyük bir dostunu kaybetti. Arkadaşlar artık  biraz daha eksik, biraz daha yalnız. Ne mutlu ki sizi tanıdım. Sizin çalışkanlığınız, iletişim becerileriniz, idealizminiz ve sabrınız bana hep örnek oldu. Kitabımın yazılması süresince bana duyduğunuz güven, verdiğiniz destek ve sabrınız için size minnettarım. Mekanınız Cennet olsun. Allah size rahmet eylesin. —Zafer Parlak

Translation:
Dear Sandy Hanım,
Humanity has lost a beloved child, Turkey has lost a great friend. Arkadaşlar are now more incomplete without you, and we are lonelier. I am so happy I have had the honor to meet you. Your working habits, commmunicative skills, idealism and patience have always been a light house for me. I am grateful for your trust in me and for your support for my book project. May Heaven be your eternal resting place. Rest in Peace."
Selam ve sevgilerle….
Zafer Parlak

Arkadaslarima,
I am in shock. I corresponded with Sandy on Friday afternoon apparently just three hours before her aneurysm later in the afternoon.
Sandy was a wonderful person. She was working on a tribute to the Pearsons, who died tragically at Uludag in Bursa. She had asked if a piece I had written in 2004 could be included, and I had just told her "yes."
We are never ready for anyone's sudden death, and I'm sure we will all need time to make sense of it and grieve in our own way. For me, Sandy epitomized the second goal of the Peace Corps, that is, "To help promote a better understanding of Americans on the part of the peoples served." Her energy, her gentle persistence, her vision, and her plain hard work will not be forgotten. Hers was a life well lived!
I am including the emails. I don't know if anyone else was involved with the tribute to the Pearsons, but I am hoping someone knows enough about it to pick it up where Sandy left off. If so, my little piece could be included.
With great sorrow,
Ken St. Louis (T-10)

Sandy will be profoundly missed!  My condolences to her family.  –Beverly Ausfahl (T-13)
The pieces of Sandy that touched so many of us add up to her delightful self still being here I'm sure. –Larry Montgomery
 
It is with such a heavy heart that I pass on the shocking news that Sandy passed away yesterday, March 4.  I spoke with her husband, Charlie, a little while ago.  It was very sudden–an aneurism that occurred in the early hours, as she was, as usual, working at her desk.  Both her daughters made it to the hospital room before she died.  "She waited for them," Charlie says.  Arrangements for a memorial service have not yet been made.  We will pass along information as we get it.  Arkadaslar will never be the same.  –Peggy Hanson

Just read the sad news about Sandy. May her soul be at rest. — Erden Erkam

Impossible to imagine Arkadaslar without Sandy. – Allan Gall

I'm sure those of us who were Turkey 13s took great pride that Sandy was one of us. She always projected such a wholesome outlook that it was impossible not to be uplifted when interacting with her.
Her caring spirit touched us all in memorable ways, which makes her passing all the more painful as we acknowledge the scale of our loss.  –Jim McHenry
Oh, my God. My God Receive Sandy's Soul With Joy, as much as she gave to all of us.  –Leo Hogan
My Condolences to Sandy's family. It's such a shock… Very sad news.  My condolences to Sandy's family.  She will be missed. –Colleen Doherty
I'm shocked and deeply saddened! Deepest condolences to her family, geҫmiş olsun!
R.I.P. to Sandy. It will take a while to believe that she is no longer with us.
A dear friend, a founder and stalwart of Arkadaslar. A lovely person! — Ken Hill
My condolences to Sandy's family. Başların saǧ󠆰 olsun.
We will miss her. –Colleen Clark, Turkey IV
Dear All,
It is with profound sorrow I am writing this email. I just received a call from Sandy's daughter Ashley that her mother passed away yesterday evening at 6:30 p.m. very suddenly from aneurysm. I am in such disbelief and in tears that our beloved friend and leader of everything Askadaslar and keeping all of us together all these years is no longer with us.
Both of her daughters Ashley and Kate are with Charlie and tentatively are making funeral arrangements for next weekend.
Perhaps we can collect messages for Sandy's family via Arkadaslar and share them next weekend. We can post more complete funeral arrangements as we know them via Arkadaslar.
Allah rahmet eylesin. Başın sağolsun
Joan Weeks
So difficult to imagine life, and certainly Arkadaslar, without Sandy. I remember so clearly the day she arrived at PC training — I was looking out the dorm window and here she came, tall and strong, as always. Gözlerinden öperim. Such a good friend always, and such a steady hand and head guiding us all in Arkadaslar. –Susan Holm

Unbelievably sad and difficult to deal with. She was so vital, competent, and a friend to all. So hard to even consider this. There is no good way to deal with it except with respectful, warm remembrance.
At board meetings we will seek her rational contributions – and upon automatically looking for her, we will find emptiness and a hollow space will open in our hearts. We shall dramatically miss her. –Doug Shifflet

So shocked. So sorry.  So sad.  –Linda B

 
Oh no!  I am shocked and sad as well. A loss for us all.   Judie Jerald

Sandy meant a lot to all of us no matter what group or whether you were a spouse of a PCV (like me). Eventually, if it hasn't been already discussed, and in consultation with Charlie, might we put together a fund to support a project in her Memory ?  –Barbara Bloch

Sandy was a dear personal friend and an Arkadașlar mainstay.  I'm still reeling from the shock of her untimely death. Sandy was the "go-to" person for getting questions answered about Arkadașlar on everything from our database of members, directory, listserv, special publications (photo books), annual bayram dinners, and much, much more.  She collected news for Buralarda, for the website, for the different training groups.  She was a terrific organizer, correspondent, historian, writer, educator, colleague, and friend.  But she had a life beyond Arkadașlar as well: birding, photography, writing, family, local politics, and church.  I feel fortunate to have known such an amazing, intelligent, caring, interesting, and dedicated person.  We will all miss her greatly.   — Ellie LeBaron