November 25, 1937-January 25, 2014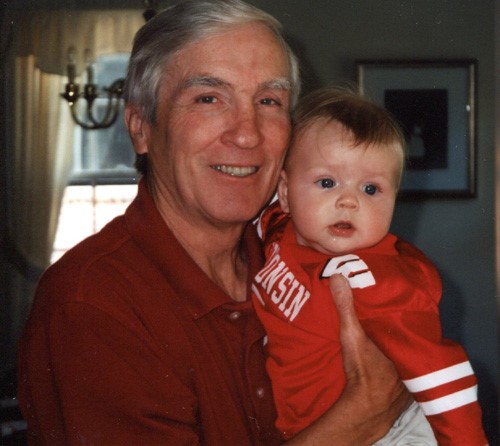 James J. "Jim" Hogan, 76, of Hastings-on-Hudson passed away on January 25, 2014.

He was born in Decorah, Iowa to James and Coletta Hogan. Jim graduated from Loras College in Dubuque, Iowa and was inducted into the Loras College Athletic Hall of Fame in 2000. From 1963 to 1965 Jim served in the Peace Corps in Turkey, where he married Elizabeth Field in Ankara in 1965. The couple settled in New York City where their sons, James and Justin were born. In 1968 Jim accepted a position teaching Middle Eastern and Global Studies at Edgemont High School, Scarsdale, where he taught until his retirement in 2000. Jim was very active in community affairs as well, winning three terms on the Hastings School Board, 1979 to 1988. Jim was a volunteer with the Riverview Manor Fire Company, Engine 3. Jim is survived by his wife Elizabeth, two sons, James (Karen); Justin (fiancée Carolyn Bevan) and four grandchildren, and his sister Shirley Kalish. He was predeceased by his parents, and three sisters.

A memorial reception will be held at Maud's Tavern, 149 Southside Ave., Hastings from 1 to 4 P.M. on Wednesday, January 29. Donations may be directed to the Riverview Manor Firehouse in Hastings-on-Hudson, to the Ridgewood High School Learning Commons Project for the Ridgewood High School HSA in the name of James Hogan and mailed to Lori Weil at 262 McKinley Place in Ridgewood, NJ 07450 or to the charity of your choice 
–Published in the The Journal News from Jan. 27 to Jan. 28, 2014 – http://www.legacy.com/obituaries/lohud/obituary-search.aspx?affiliateId=2418&daterange=14&firstname=James&lastname=Hogan&stateid=44#sthash.iiJwf2BI.dpuf

Comments from Arkadaslar:
Pat Lowther: 
Maybe most of you knew this but I didn't. I saw Jim Hogan's cousin at church this morning and she shared the sad news that Jim passed away last Saturday. A really nice guy. He'll be missed.
 
Steve Poppick:
Yes, it is sad.  Jim and his wife Elizabeth were regular attendees of the NYC Bayram celebration.  They missed the event this past October, because Jim was recovering from some medical issue.  They have attended many in the past, and you're right – he was a really nice guy.
We received a Christmas card and note from Jim and Elizabeth with no reference to an illness so this news is a shock to us.

Leo Hogan:
Jim was a nice guy. I liked him. He always came to the Cumhuriyet Bayram re-union in New York every time.
My namesake.."HOGAN"…Jane and I were the other two Hogan's in PCV-Turkey. I will miss him.

Tony Venegoni:
I am so shocked and saddened to hear of Jim Hogan's passing. He and Elizabeth really wanted to join us on our anniversary trip to Turkey last October, but weren't able to go due to health problems. Even though I rarely saw him I will miss him. What a guy!

Paul Magnarella: 
Sharlene and I share your sadness upon learning of Jim's passing. He was a good PCV and a fine guy.
Paul

Chuck and Mugs Mast:
Mugs and I are saddened to hear of Jim's passing.  We will remember both of you in our thoughts and prayers.  We lost Frank Creel a few years ago and Jim's passing as well reminds us of how much we will miss them both at Peace Corps get togethers. Both of them have our abiding love and respect.  Chuck and Mugs Mast

The National Peace Corps Association
January 27, 2014
We are sorry to learn of the passing of Jim, but grateful for his service to our nation as a Peace Corps Volunteer in Turkey.

Our Condolences,

 
Liz Hogan, his wife, replied to Linda Scheffer in April 2014: 
Yes, we were/are close friends of the Bringedahls. Jim's first year in Turkey as a PC volunteer he lived in Ceyhan with David Bloch and Kevin McCarthy who compiled the wonderful history of Turkey 2 some five years ago.  Jim taught at METU in Ankara and lived with David Bringedahl, Jim Lay, and Charles White his second year, 1964-65, and we have remained close to them over the years, not to mention many others with whom we have linked up, mostly at reunions in Washington, D.C., some of which were facilitated by Kathy Markley (can't think of her married name at this instant) and John Wintrol. Anyway, we maintained happy memories and relationships with these individuals and others after our marriage in Ankara on June 24, 1965. Our wedding was at the home of Ross( the Peace Corps Director of Turkey) and Emily Pritchard. Kevin McCarthy's chronicle of Turkey 2 volunteers all these years later contains wonderful life stories and photos of so many, including our wedding. I feel part of this magical circle and hope to remain affiliated following Jim's death, if that is all right. In the wake of his passing I have received so many wonderful condolence notes from Jim's PC friends which have buoyed me.
Jim's Peace Corps experience left an imprint which led to him earning a master's degree from New York University in Political Science with a concentration in the Middle East. He earned a master's in Guidance and Education from Xavier University in Cincinnati as well. Jim also conceived and produced a film titled "Arabs and Jews: The Crisis*," which was a finalist in the National Educational Film Foundation Festival in the 70s. Oh, just for the record, Jim was born November 25, 1937.
Without a doubt the Peace Corps and Turkey 2 were among the most significant experiences in his life.

* Editor's note: Warren Schloat Productions, Inc. was sold in the mid-1980s by Prentice-Hall Media, which had bought it in 1968, to Guidance Associates in Mt. Kisco, NY. Apparently Guidance Associates is still in business so you could contact them to see if they have a library of previously published titles or any information.
Guidance Associates, 31 Pine View Road, Mt. Kisco, NY 10549 800-4310-1242
There are several libraries listed as owning the filmstrip. They might no longer maintain filmstrips, but if they do, they might be willing to loan it. The best bet is to have a copy made and one of these libraries could do it for you,
San Antonio Public Library, 600 Soledad Street, San Antonio, Texas 78265
James A. Rogers Library, Francis Marion University, 4822 E. Palmetto Street, Florence, SC 29506
Robert James Terry Library, Texas Southern University, 3100 Cleburne Street, Houston, TX 77004
Miller Library, Keystone College, One College Green, P. O. Box 50, Laplume, PA 18440-0200
McGill University Library, McLennan Library Building, 3459 rue McTavish, Montreal, Quebec H3A oC9
Swedenborg Memorial Library, Urbana University, 578 College Way, Urbana, Ohio 48078
Carl A. Rudisill Library, Lenoir-Rhyne University, 625 7th Avenue NE, Hickory, NC 28601