August 23, 1941 – November 12, 2011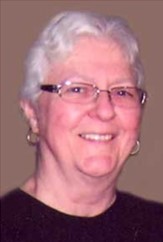 Margaret A. Simpson, 70, of Syracuse, passed away Saturday, Nov. 12, 2011, at Crouse Hospital. Born in Saratoga on Saturday, Aug. 23, 1941, she was a teacher at the Dr. King Elementary School in the Syracuse City School District for many years.
Margaret's many interests included: cooking, reading, golfing, bowling, photography, gardening, animals and taking care of loved ones.
Margaret was predeceased by her parents, Charles Henry Simpson and Blanche Tyre Simpson; and brother, Charles.
Surviving are several cousins, including Marylou Dopyera of DeWitt, and Elizabeth Tyre of Catskill. Also surviving are her best friend and companion, Stephanie Scheirer; and her loving extended family, Matthew Scheirer (Angela), Joshua Scheirer (Teri), Gregory, Joshua and Madison Sheirer; the Smits Family; and too many loving friends to list.
Relatives and friends called from 4 to 7 p.m. Thursday, Nov. 17, at the Buranich Funeral Home, 5431 W. Genesee St., Camillus. Services followed at 7 p.m. at the funeral home with Rev. Gary Ferner officiating.
Contributions may be made to the Food Bank of CNY, 6970 Schuyler Rd., E. Syracuse, NY 13057.
Please share condolences at buranichfuneralhome.com.
Also
http://obits.syracuse.com/obituaries/syracuse/obituary.aspx?pid=154606955