1943 – Feb 2003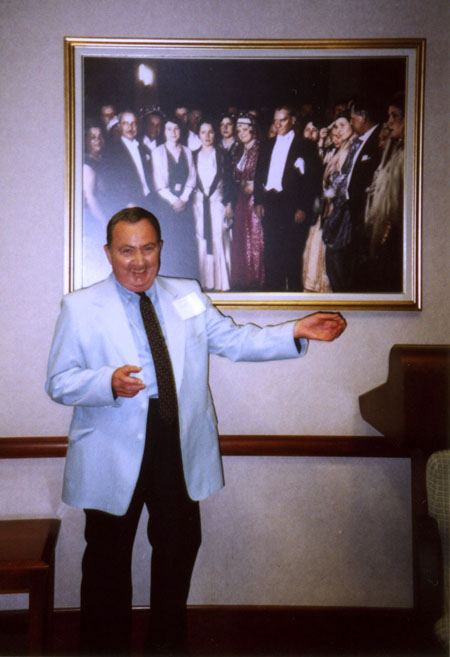 Photo of Sean taken at the 2002 Arkadaslar reunion in Washington, DC.
Former Alderman Killeen dies
Lead Belly enthusiast also monitored elections in Balkans

By DAN HIGGINS
Ithaca Journal Staff (February 10, 2003)

ITHACA — Sean Killeen, who monitored elections in nascent democracies of Europe, drafted laws and worked the political scene in Ithaca, and who strove to tell the world about an underappreciated bluesman, died Saturday. He was 60.

Killeen, whose friends and family said had been in poor health for several years, died of an apparent heart attack.

He was in Nashville to address a national folk music convention. Killeen was an expert on the music of American folk and blues pioneer Huddie "Lead Belly" Ledbetter, and was scheduled to give a talk on Saturday titled "Huddie Ledbetter: The Man Behind the Legend."

A press release from Ithaca radio station WVBR –Killeen was a member of its board of directors — said he died Saturday morning in his Nashville hotel room.

Killeen served on Ithaca's Common Council from 1981 to 1989. In his second term, he held the title of acting mayor.

He spent much of the last six years as a volunteer election monitor for the United Nations. He was one of many volunteers who supervised elections in the burgeoning democracies of the Balkan states, as well as in republics of the former Soviet Union. He made seven trips to monitor local and national elections in Bosnia.

Amon Killeen, 28, said his father's interest in international affairs began with a stint in the Peace Corps, which he served in Turkey in the 1960s.

"That gave him an interest in what was happening in the world that stuck with him," he said.

Following his Peace Corps service, Killeen and his wife, Madeleine, traveled the world for a decade, living in Turkey, Ireland and Iran.

He spent two years in the Army, serving at Intelligence Headquarters in Heidelberg, West Germany, from 1966-1968.

The family came to Ithaca in 1974 when Killeen was offered a job as the executive director of Cornell University's Einaudi Center for International Studies, a position he held until 1984.

On Ithaca's Common Council, Killeen represented the Third Ward, which at the time included much of the Collegetown neighborhood and a large population of Cornell University students.

"Students and student issues were always very important to him," said John Gutenberger, who was Ithaca's mayor at the time Killeen, a lifelong Democrat, served on the city council.

Tompkins County Legislator Nancy Schuler, D-City of Ithaca, served on Common Council with Killeen in the early 1980s, and had long counted him a friend.

"He's just a great guy. A great friend," she said. "'Read this,' he was always telling me. I'd see his car pulling away from my driveway and I'd know to check my mailbox. He'd just dropped off an article he'd want me to see."

Killeen had a hand in a number of community organizations whose missions were close to his heart.

From 1987 until he left Ithaca in 2002, he served with groups including the Vietnam Veterans Association, Cornell Cinema, the Boy Scouts of America, the Mutual Housing Association of Tompkins County, and most recently was a police commissioner for the City of Ithaca.

In 1990, he founded the Lead Belly Letter, a newsletter devoted to the legendary American blues musician. He published the newsletter until 1996.

"He had always been interested in Lead Belly, from when he first heard him in college," Amon Killeen said. "But in the late 80s or so, he decided he was going to become an expert on him and tell people about this musician whom he thought was underappreciated."

Killeen left Ithaca in October of last year for Burlington, Vt., to be with his son, Kieran, and his family.

A memorial service will be held this Thursday, February 13th, at the Ready Funeral Home in South Burlington, Vermont.

Calling hours will last from 1-4 p.m., and a celebration of his life will follow at 5:30 p.m. at the Killeen home.

Family members said Sunday that a memorial tribute of some kind was planned for Ithaca in the next several weeks, but details are still being worked out.

ÿ ÿ ÿ
Sean Killeen T-4
Sean, 60, passed away February 8, 2003 of a heart attack. Jim Healey, T-4, send this remembrance to the March 2003 issue of Buralarda:
I first met Sean Killeen in Scranton, PA, 46 years ago. We were starting out as freshmen in high school together. I distinctly remember he got me laughing with his first words, and at the same time, thinking about serious issues of the day in 1956. He continued to do the same thing in June, 2002 at the Turkish Embassy during our Peace Corps reunion. Sean had the gift of a most unique sense of humor, always with a serious edge, that led you to rethink ideas.
After college, we found ourselves together again heading for Turkey in the Peace Corps. He was in Ankara and I was in Maras. We taught together in the summer of 1965 at Haceteppe Medical School and, later that summer, we hitched across Africa with our Peace Corps wives-to-be.
He did so many things after the Peace Corps. There was service in the Army and living in Ireland and teaching in Iran and working at Cornell and raising a wonderful family. And his passion for the blues was always a part of him.
It is funny what you remember about someone. And, if that person was fun, the essential memory is the music of laughter. What a gift! Thanks, Sean.