February 15, 1942 – November 21, 2018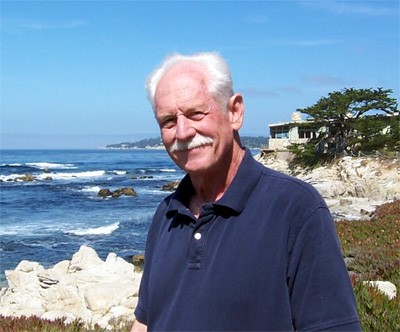 He connected people with each other and with the arts.

William Henry Taylor, age 76, died of complications from a fall he took in August 2018 and took his last breath just before midnight on November 21 at Community Hospital of the Monterey Peninsula in California. He resided the past 10 years in Carmel, California. He is survived by his long-time partner James Pond, brother Claxton Taylor, sister-in-law Kim Taylor, nephews Tully and Austin Taylor, niece Llama, and beloved dog Stella. He follows in death his mother Ruth Taylor and father Hugh Taylor.

At the center of Will Taylor were his love for and openness to all people (especially his family and friends), his memorable, often hilarious stories, and his wide-ranging creativity. These qualities, combined with his beautiful twinkling blue eyes, signature grey hair, and purposeful stride as he walked beaches, parks, and city streets – almost always accompanied by one of his beloved dogs – leave no doubt that Will lives on in the hearts and minds of all who knew him.

Well known for his sense of humor, Will could cause people to laugh harder than they thought imaginable. His convivial dinners on birthdays, holidays, and other occasions were legendary for their creativity and hilarity. At one dinner, everything he prepared was white – cauliflower, something in a white sauce, sourdough bread, a white dessert. As he was cooking the meal, he had everyone laughing uproariously about how he'd come to prepare such a colorless meal.

Will's ability to convey his knowledge and love of film, food, art, music, literature, politics, and dance inspired and impacted the lives of his friends. Will shared his love of the opera by taking friends to standing room only at the Met in New York City and the San Francisco operas. He turned down many an invitation to sit in a prime seat offered by a season ticket-holder, preferring instead the $5.00 standing area so that he could observe everyone. He was a people-watcher extraordinaire who held no judgment about those he observed.

Will found enjoyment, and sometimes sadness, in our human differences, and then shared his perspective through his gift of communicating in creative and unique ways through writing, photography, filmmaking, sculpture, and painting. He was renowned for his compassion and for his caring deeply about the less fortunate.

During the early days of AIDS, when many were losing friends, it seemed almost daily, there were many gay men who had either been rejected by their families or had no one to take care of them. The Gay Men's Health Center developed a group of volunteers who took care of these people who had to face the daily battle alone. They were called buddies. Will was one of the first to volunteer. His genuine caring and efforts touched the lives of persons with AIDS, and brought inspiration, hope, spirit and soul to all.

Prior to residing in Carmel, Will lived in San Francisco, where he held the position of Public Information Officer for the Bay Area Air Quality Management District. Before this, he was in New York City, where he was a playwright, an actor, and an art critic for the New York Arts Council.

Will grew up in post-war Germany, where his father was an official in the U.S. occupation. He attended high school in Munich where he gained lifelong friends and started his career in acting. Will studied at the University of California Berkeley and the San Francisco Art Institute. He lived in Turkey from 1964-1966, where he served in the Peace Corps in the first community development project in a small Turkish village. In the early 1970's he was in Lima, Ohio for a year as a filmmaker in residence through the Ohio Arts Council.

Will's memorial service is planned to celebrate his life in 2019. Interested parties should
call 831-241-8580 or email whmtaylor@gmail.com.