April 3, 1939 – January 1, 2012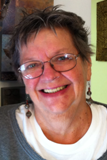 Julie Auer, born 3 April 1939, is thankful for the world and for everyone in it! Born Joyce Julianne Juengel, Kingman, KS, to Rev. Rudolph and Gertrude Dohrmann Juengel, Julie graduated from Hampton, IA, High School – elected Sweetheart Swirl Queen! – and Valparaiso University – Gamma Phi! A born storyteller and stagetaker, Julie fell in love with theater arts, especially costuming, receiving a Master's and teaching at Indiana University.
There she met John Auer while plying the Ohio River on IU's Showboat Majestic. They married in 1965, immediately joining the Peace Corps for two years teaching English in Diyarbakir, Turkey. They went to Chicago for seminary in 1968 and stayed 25 years serving two inner-city congregations. Their children were born and mostly reared there – Jeffery (Nicholas), Reno, NV; Jane (Ayesha), Fresno, CA; and Jacob (Sonya), Sacramento, CA. – while Julie taught at Central YMCA College and Northeastern Illinois University, and for the Board of Education's State-Funded Pre-Kindergarten, including a start-up for children of parents in recovery.
They moved to California in 1992, where their grandchildren were born – Alexandra Castile,Aden Avila, Matthew Auer. In Fresno Julie nurtured parents of children born with special needs at Exceptional Parents Unlimited. In San Rafael she supervised sites for Head Start, and set up the Waldorf-inspired Elmwood School in Berkeley, whose students continue to recall how she helped open their eyes, ears, minds, and hearts. In Reno Julie became a PEO, volunteered with the Assistance League, and reinvested her theatrical passion in Ageless Repertory Theater, and Nevada Shakespeare Company – costuming and playing a leading suffragette in the film "A Single Woman," the life of Jeanette Rankin. Not to mention nearly 40 years' worship planning, sermon critiquing ("Preach it to Uncle Lester!"), Vacation Bible and Sunday Schooling!!
Julie's strong sense of sisterhood grows out of and with her equally life-loving sister Judith Pence (Gary), Oakland, CA; and sisters-in-law Jane Childs (Donald), Stillwater, OK, and Judith Shaw (Bruce), Moorestown, NJ. Her sense of family extends through cousins, nieces, nephews countless friends – and beyond! Her legacy is one of valuing and engaging people everywhere and each person she meets. Chatting in restaurants, laundries, grocery stores, airports, hospitals, Julie often observed of young workers she met, "Your mother must be very proud of you." She is one proud mother, grandmother, mothering spirit! Powerfully present, subtly influential, now and forever.
Since coming to Naples in 2009, even when trying to dance with massive, invasive lymphoma, Julie has been active in PFLAG, Vets for Peace, Coalition of Immokalee Workers – along with the two congregations – Celebration Metropolitan Community Church and First Christian Church (Disciples) — who will combine in public witness and celebration of her life and work Friday, at 5 PM, Celebration MCC, 3400 Radio Road, corner of Airport-Pulling. Her hard-won and honest relations to "the Great Spirit" keep Julie on keeping us honest in every way.
On New Year's Day she died – not euphemistically; she just plain died. "This here old man just lived a life and just died out of it. I don't know if he was good or bad, but that don' matter much. He was alive, and that's what matters." (The Grapes of Wrath) Julie offers herself to Earth again, knowing the tireless struggle of Jesus for love of the world goes on – in her, in us, in us all – as she goes on in us. From her favorite poet, Mary Oliver: "To live in this world / you must be able / to do three things: / to love what is mortal; / to hold it / against your bones knowing / your own life depends on it; / and, when the time comes to let it go, / to let it go."
Gifts in Julie's name welcomed for Interfaith Action of Southwest Florida (www.interfaithact.org) and Island Coast AIDS Network www.icanswfl.org).