Feb. 24, 1943 – Nov. 30, 2014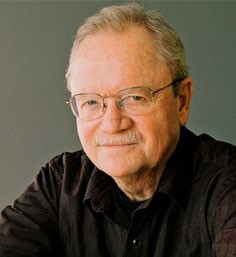 Kent Haruf, acclaimed novelist who chronicled small-town intrigue, dies at 71
From The Washington Post, Dec. 2, 2014
Kent Haruf, who faced a series of publishing rejections before emerging at 41 as an acclaimed novelist of small-town intrigue and fragile community bonds in books such as "Plainsong" and "Where You Once Belonged," died Nov. 30 at his home in Salida, Colo. He was 71.
His publisher, Knopf Doubleday Publishing Group, confirmed the death and said the cause was cancer.
Mr. Haruf (whose name rhymes with "sheriff") was a Methodist preacher's son and grew up in a family of book lovers. He attended a prestigious writers workshop in Iowa but struggled to interest publishers in his prose. He took a series of menial jobs to support his wife and three daughters.
He was 41 before his first short story appeared in a literary magazine, Puerto del Sol. His first novel, "The Tie That Binds," was published that same year, 1984, to promising reviews. The book focused on the hardscrabble life of a Colorado woman who cares for her tyrannical and ailing father at the cost of an early romance.
"The Tie That Binds" won a $25,000 Whiting Writers' Award and drew critical acclaim for its sharply observed prose. Chris Wall in the Los Angeles Times called it "an impressive, expertly crafted work of sensitivity and detail, absent the hokum that usually accompanies sad tales of simple women and their domineering fathers."
Mr. Haruf's next novel, "Where You Once Belonged," came out in 1991 and chronicles a former high school football star who ruins many lives through his greed and arrogance. The book, narrated by a fictional newspaper editor, was again lauded for the author's ability to capture small-town lives in exacting prose.
Many of Mr. Haruf's stories were set in the fictional small town of Holt, Colo., a composite of the Colorado towns where he was raised as his father moved from one church assignment to the next. "Plainsong" is based in Holt, and its narrative circulates among a variety of local residents. Mr. Haruf was an admirer of Sherwood Anderson's "Winesburg, Ohio," which has a similar structure. "He has conjured up an entire community and ineluctably immersed the reader in its dramas," book critic Michiko Kakutani wrote in the New York Times.
Kent Haruf was born in Pueblo, Colo., on Feb. 24, 1943. He graduated from Nebraska Wesleyan University in 1965, then spent two years in the Peace Corps in Turkey.
"It made me less interested in material things and more interested in the qualities of the human spirit," Mr. Haruf told a Peace Corps publication.
Upon his return, he became a conscientious objector during the Vietnam War and fulfilled two years of alternate service in hospitals and an orphanage. He then held a series of odd jobs, from construction to chicken ranching, before completing a master of fine arts degree from the University of Iowa in 1973.
He thereafter spent much of his career as a teacher, working in Wisconsin and Colorado schools from 1976 to 1986. He then was an assistant professor at Nebraska Wesleyan for five years and then at Southern Illinois University in Carbondale from 1991 to 2000.
His marriage to Virginia Koon ended in divorce. In 1995, he wed the former Cathy Dempsey. Besides his wife, survivors include three daughters from his first marriage; and five stepchildren.
He recently completed his sixth novel, "Our Souls at Night," which will be published next year, according to Knopf.
Mr. Haruf honed at times a lean and near-colloquial style of language. His opening to "Plainsong" starts: "Here was this man. Tom Guthrie in Holt standing at the back window in the kitchen of his house smoking cigarettes and looking out over the back lot where the sun was just coming up."
"I wish I had a lyric gift; I don't," Mr. Haruf told the New York Times in 1999. "I don't like gorgeous writing."
— From Washington Post staff and wire reports

The following is from Sandy Anderson (T-12): Kent Haruf, T-8, was a good writer, and recognized author. I've compared him to Faulkner in terms of his feelings for and insight into his community. Others see Willa Cather (My Antonia). His language is straight-forward within space, much like life on the Great Plains in the northeastern corner of Colorado. Kent died last fall, and they have recently printed an unpublished book of his, Our Souls at Night. This book review is at the Washington Post, and I copied the photo also from the [Washington] Post.

http://www.washingtonpost.com/entertainment/books/kent-harufs-posthumous-novel-offers-a-tender-look-at-love-in-the-twilight/2015/05/19/b3d17bf8-f8e5-11e4-9030-b4732caefe81_story.html