1944 – April 2, 2017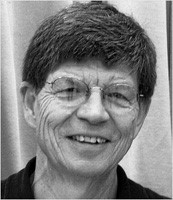 MADISON – Russ Whitesel, age 73, died on April 2, 2017, at Agrace HospiceCare, one week after a family gathering which included his wife, Elizabeth Whitesel, daughters, Leah (Justin Gates) and Emily (Aaron Spicer) Whitesel, and grandchildren, Rosalind, Judah, and Owen.
After graduating from Northern Illinois University, Russ enlisted in the Peace Corps and served in Turkey. He
then received his masters in Public Administration from the University of Syracuse Maxwell School, and moved to Madison for a job with the Wisconsin Department of Administration. He also worked at the University of Wisconsin Central Administration Office before attending UW Law School.
He worked in the Legislative Council as a Senior Staff Attorney for over 30 years, drafting legislation, helping legislators come to agreement on policy issues, and mentoring legislators, lawyers, and law students. After he retired, he developed and taught the Government and Administrative Law Clinic at UW Law School, where he trained second and third year law students to be compassionate and thoughtful lawyers and policy makers through clinical placements in state administrative agencies.
Russ was a devoted husband, father, and grandfather, never missing a concert or game. He had a knack for making all activities fun, whether coaching youth soccer or drilling Spanish vocabulary words. His contributions to his community included his involvement as president of the West High PTO, serving on the Community Development Block Grant Committee, and as president of the Temple Beth El Men's Club. He was especially proud of the month he spent with the Peace Corps Veterans volunteering in Louisiana as part of the post-Katrina recovery effort. In his leisure time, he enjoyed fantasy baseball, bridge, two book clubs, biking, running, and traveling with his family.
Despite a diagnosis of brain cancer, Russ felt fortunate for having a beautiful life filled with family and friends. His family would like to thank the compassionate and professional caregivers from Agrace HospiceCare and to all of their friends for their companionship, meals, and loving support.
A funeral will be held at TEMPLE BETH EL, 2702 Arbor Drive, Madison, at 11 a.m. on Thursday, April 6, 2017.
In lieu of flowers, please send donations to Agrace HospiceCare, 5395 E. Cheryl Parkway, Madison, WI 53711; Jewish Social Services, 6434 Enterprise Lane, Madison, WI 53719; or the Southern Poverty Law Center, 400 Washington Ave., Montgomery, AL 36104.
"The clock provides only a technical measurement of how long we live. Far more real than the ticking of time is the way we open up the minutes and invest them with meaning."
Please share your memories at www.cressfuneralservice.com.
Cress Funeral & Cremation Service
3610 Speedway Road, Madison
(608) 238-3434
— from: http://host.madison.com/news/local/obituaries/whitesel-v-russell/article_c7b599e0-636e-566d-a1e9-c01019ba3fdb.html