March 14, 1936-March 12, 2017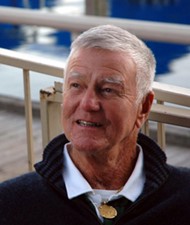 Born March 14th, 1936, Dr. Richard Stacey died March 12 at home from cardiac arrhythmia and complications of peripheral vascular disease.
He loved science – and marveled at the complexities of the human body. But he also loved people, voraciously discussing the human experience with anyone who would listen; friends, patients, family, literally everyone sitting next to him on the plane. He loved history and developed a pathological focus on the Mutiny on the Bounty trilogy. He loved Turkey and the Turkish culture. Those that played tennis with him will remember him by his first serve.
He entered the world in Westfield, N.J., 25 miles from New York City. He later graduated from Dartmouth College in 1957, and then Tufts Medical School in Boston. He married Connie Moore in Spokane in 1962. The two of them went into the Peace Corps, where he was a physician in Turkey for two years. They would ramble around in a Jeep, helping Peace Corps volunteers (and all others in their path).
After returning from Turkey, he spent 4 ½ years at the Mayo Clinic in Internal Medicine/Rheumatology. He practiced at the Rockwood Clinic in Spokane for 27 years.
He was president of the Spokane County Medical Society in 1980, and was largely responsible for closing the city immediately after the Mt. St.Helens eruption on May 18th.
After retiring in 1991, he participated on several boards – helping his community in areas where he had passion: music, health, and growing the city of Spokane.
In 1997, he was honored by the Medical Society as the "outstanding physician citizen of the year."
In retirement, he attempted to write a spy novel, which his estate would like to offer to any potential publisher at an extremely attractive rate.
He also travelled extensively, becoming one of the very few people on Earth to set foot on Pitcairn Island – the infamous and incredibly remote "hiding spot" for the mutineers on the HMS Bounty. One of his prized possessions was a small piece of the Bounty's keel. Another valued possession was his extensive collection of Bounty books, now available to the public in the Cowles Rare Books Collection at Gonzaga University.
He leaves behind three children, and eight grandchildren: Eve in Seattle (husband John VanNewkirk and children Gus, Jesse, and Lucy); John in San Francisco (wife Monica Morse, children Piper and Holland); and Chris in Washington D.C. (husband Sam Stebbins, M.D., step-children Jonathan, David, and Anna).
He was a glinty-eyed Captain among us: loud, happy, smart, caring, and fully engaged with the world around him, and the family he helped to make. He will be tremendously missed.
A Celebration of Life will be held in the Isabella Room at the Davenport Hotel on Saturday, April 22nd at 11:30 a.m. Please self-park at Davenport's Lusso Parking garage on the southwest corner of First Avenue and Post. Memorial donations may be made to the Inland Northwest Community Foundation or the Spokane Symphony.
–from Hennessey Funeral Home & Crematory, Spokane, WA
Dr. Richard Stacey, the Spokane doctor who shut down the city after Mount St. Helens erupted, dies
UPDATED: Fri., March 17, 2017, 4:24 p.m.
By Becky Kramer beckyk@spokesman.com(509) 459-5466
Dr. Richard Stacey, a long-time Rockwood Clinic physician and civic volunteer, died Sunday at age 80. (COURTESY OF JOHN STACEY)
When volcanic ash blanketed Spokane after Mount St. Helens' 1980 eruption, Dr. Richard Stacey worried about the long-term effect on people's lungs.
Stacey was president of the Spokane County Medical Society at the time. Working with others, he helped devise emergency plans that closed schools and distributed tens of thousands of facial masks to the region's residents.
"He was largely responsible for shutting down the city," his son, John Stacey, recalled this week.
Stacey, a longtime Rockwood Clinic physician and civic volunteer, died Sunday at his home. He was 80.
Friends and family remembered Stacey as a doctor who connected with patients and helped spur innovations in treating rheumatoid arthritis. He was an avid traveler who spent two years as a Peace Corps doctor in Turkey early in his career. Through his volunteer work, he also helped the Spokane Symphony and other nonprofits achieve greater financial stability.
"He was a larger than life kind of guy – a doctor and a world traveler," said Mark Hurtubise, president and CEO of the Inland Northwest Community Foundation, where Stacey was a board member and board chairman. "And he was kind and encouraging."
Stacey, known as Dick to family and friends, was born March 14, 1936. He grew up in Westfield, New Jersey, outside of New York City. He graduated from Dartmouth College and Tufts Medical School in Boston.
Stacey came to Spokane in 1961 while scouting out medical internships. His sister, the late Allison Cowles, had married The Spokesman-Review publisher William Cowles III, and was living in Spokane. Stacey ended up doing his internship in Philadelphia, but he met Connie Moore, the woman who would become his wife, in Spokane on a blind date. They married the next year.
After the couple's stint in the Peace Corps, they moved to Minnesota, where Stacey spent 4 1/2 years at the Mayo Clinic. He eventually joined Rockwood Clinic in Spokane, where he practiced rheumatology for 27 years.
"He picked rheumatology because it was a young specialty, and he thought we needed to find breakthroughs in treatment," said Dr. Rex Hoffmeister, a longtime colleague. "He was interested in serving people."
In the late 1960s, Stacey was involved in pioneering the use of a new drug – methotrexate – in treating rheumatoid arthritis. It's still in widespread use today, Hoffmeister said.
Stacey retired from Rockwood Clinic in 1991. He was honored by the Spokane County Medical Society in 1997 as the "outstanding physician-citizen of the year."
Stacey's retirement years were busy with volunteer work.
"He felt that when you are part of a community, you need to give back," said his wife, Connie. "It was both a duty and a joy to him."
Stacey was on the boards of Blue Cross Washington & Alaska/Premera, Whitworth University, the Spokane chamber of commerce, Rockwood Clinic Foundation, WSU Spokane and the Spokane Symphony.
He was board chairman of the Inland Northwest Community Foundation from 1997 to 2000, and was proud the endowment increased from $5 million to $35 million during that time.
"We are the region's savings account when it comes to philanthropy," said Hurtubise, the foundation president and CEO. The endowment has $100 million now, a result of the "strategic dreaming" by leaders such as Stacey, he said.
Stacey also was involved in a $30 million fundraising effort to renovate the Fox Theater, the home of the Spokane Symphony.
"It was quite an endorsement to have his name on the campaign," said Jennifer Hicks, the symphony's director of development.
Besides his commitments to his family, his medical practice and his volunteer work, Stacey had what his family called "an obscure passion" for the historic events depicted in the novel "Mutiny on the Bounty" and later films.
After he retired, Stacey and three friends visited Pitcarin Island near Tahiti in the South Pacific, which was settled by British sailors who took part in a 1789 mutiny. Stacey gave his collection of books about the event to the Cowles Rare Book Library at Gonzaga University.
Stacey also wrote an unpublished spy novel in retirement. The plot featured stolen nuclear engineering plans and took place in Turkey (where Stacey and his wife often returned to visit), Europe and Idaho.
Stacey is survived by his wife, Connie; three children and their spouses, Eve and John VanNewkirk in Seattle; John Stacey and Monica Morse in San Francisco; Chris and Sam Stebbins in Washington, D.C.; and eight grandchildren and step-grandchildren.
— from The [Spokane] Spokesman-Review (http://www.spokesman.com/stories/2017/mar/16/dr-richard-stacey-the-spokane-doctor-who-shut-down/) Remembrances:
He certainly is remembered by us fondly perhaps more for his humor and his "call to prayer" than for his medical help. And Alex too…how sad. I last saw them both in Princeton post Peace Corps.
Joan H. Grant