Aug. 20, 1942 – Feb. 14, 2018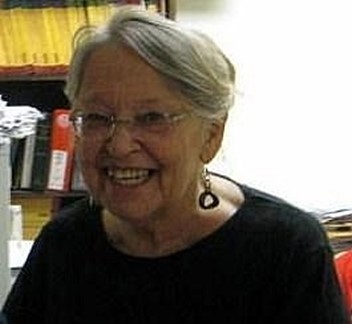 Virginia Schramm, a generous, kind and compassionate person and advocate, passed away on February 14, 2018 in Austin, Texas, at the age of 75. She was preceded in death by her parents, James and Eva Schramm, and her beloved husband, Ramiro (Randy) Garibay. Virginia is survived by her loving nephew, Richard Busching, many cousins and many, many friends.

Virginia's life was devoted to public service. Whether serving in the Peace Corps in Turkey, supervising VISTA volunteers in Oklahoma and Texas, organizing farmworkers in Wisconsin, or representing low- and moderate-income people through various legal aid programs, Virginia was always focused on the needs of others. She made a life of taking care of people, including friends, relatives, neighbors, clients, and often strangers.

Virginia grew up in Lombard, Illinois. She loved to read and to learn. She earned a bachelor's degree in English from Michigan State University, a master's degree in journalism from the University of Texas School of Communication, and a law degree from the U.T. School of Law. She enjoyed watching old black and white movies and TV shows, and aspired to be the female "Perry Mason."

Virginia loved politics and supported countless progressive candidates, at the local, state and national levels. She talked the talk and walked the walk, always focusing on progressive issues and causes. She was a liberal, a feminist, an organizer, and a strong, outspoken advocate. If you were a candidate in need of campaign help, you always wanted Virginia Schramm on your side.

Virginia loved to travel, and did so regularly, always with close friends. She went to New Zealand, Brazil, the Bahamas, Alaska, Mexico, and Guatemala. When serving in the Peace Corps in Turkey, she lived in Eskisehir, the Meerschaum Capital of the World, and often visited with other volunteers throughout the country. When working as a recruiter and program officer for VISTA, she travelled all over the United States and, of course, quickly made friends wherever she went.

Virginia's legal career was extensive, spanning more than 35 years. In addition to her solo practice, representing people who were ineligible for legal aid because their incomes were a little too high, Virginia worked for East Texas Legal Services in Tyler, the law office of Larry Watt in Houston, and Gibbins Burrow & Bratton in Austin. She worked as a training coordinator and staff attorney for the Texas Legal Services Center in Austin as well as an attorney for both the Bexar County Legal Aid Association and Texas RioGrande Legal Aid programs in San Antonio. Her work focused primarily on consumer litigation and employment law, civil rights, debt collection defense, deceptive trade practices, and elder law. Her co-workers noted that she cared deeply about her clients, and her community. Virginia was licensed to practice law in the U.S. Supreme Court, the Supreme Court of Texas, the U.S. Courts of Appeals for the Fifth and Eleventh Circuits, and the U.S. District Courts for the Southern, Eastern and Western Districts of Texas.

The love of Virginia's life was her husband, Randy Garibay. She was devoted to him and to his career as a professional musician, singer, composer and performer. She quickly became an expert on entertainment law and together they formed the Angelita Mia Production Company, which focused on producing and promoting Randy's records and public appearances and concerts. Virginia became an aficionada of Chicano and Tejano music, especially Randy's favorite, the blues. After he died, Virginia established the Randy Garibay Legacy Fund, which strived to bring Randy's music to a larger audience and to raise funds for charitable organizations that Randy supported.

Virginia's other love was keeping up with all of her wonderful friends, friends she knew from all walks of life and from all over the world, friends who would invite her to spend Christmas and Thanksgiving, Easter and Passover, New Year's and Hanukkah with them. She would regularly drive hundreds of miles to be with her friends, celebrating and sharing, laughing and crying, catching up with one another and trying to solve the world's problems. Two of her best friends, as many of us know, were her loyal pets, Danny and Champ.

Virginia Schramm was a free spirit who marched to her own drum. She will be sorely missed.

Donations in Virginia's honor may be made to the Texas Civil Rights Project and the San Antonio Cultural Arts.

Graveside services will be held on Wednesday, February 28, at 2:00 PM, in the San Fernando Cemetery #2, 746 Castroville Road, San Antonio, Texas, followed by a reception from 3:00 PM to 6:00 PM at The Cove, 606 West Cypress Street in San Antonio.

—-from: https://www.dignitymemorial.com/obituaries/san-antonio-tx/virginia-schramm-7769609